The world of supplements is confusing – but it becomes even more confusing when you attempt to select green superfood ones.
Thanks to the myriad of ingredients that are present in the mix, including some you may never have heard of before, it raises questions on how you can even know what the best superfood powder is.
Thankfully, I have stepped in and done the hard work for you, narrowing it down to ten of the best powders you can get.
Hopefully, you will get the best green superfood powder  that fits your budget, tastes good, and has good nutrient value. 
10 Top Green Superfood Powders (Picked From 253 Brands)
1- Evolution slimming super greens powder with 17 super vegetables and fruits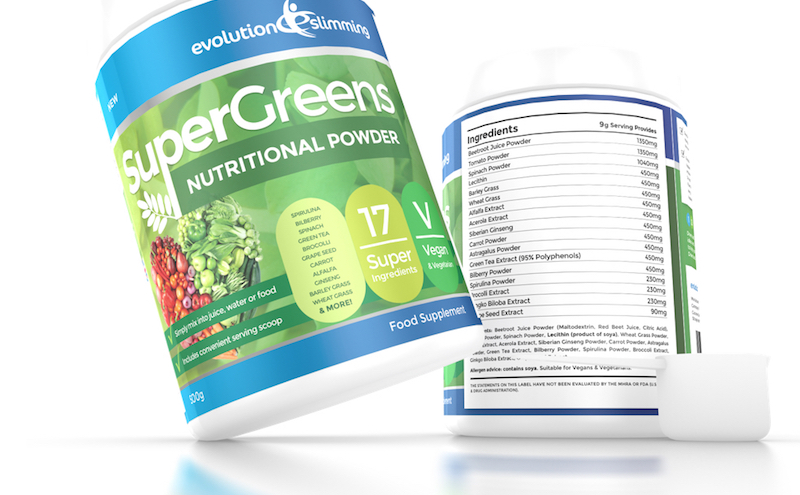 Best for: People who want an easy way of adding vegetables and fruits to their diet.
While it is a difficult task trying to get your recommended daily intake of fruits and vegetables, you do not want to trust fruit juices either.
That is where supplements such as this step in; as it provides you with the ingredients you need to kick start a healthy lifestyle – without you struggling to do it.
It combines 17 powerful vegetables and fruits to give you a convenient blend of nutrition and optimum levels of health, and you can use it every day.
In addition, it comes packed with plenty of antioxidants that will boost your health, as well as no artificial colors, flavors, or caffeine. It is also available in two sizes for your convenience – 100g tubes, or 500g value pack.
Contains:
An assortment of different powders, which include: wheatgrass, tomato, beetroot juice, barley grass, spinach, astragalus, lecithine, spirulina, bilberry, Siberian ginseng, and carrot. These will give various nutrients, including B-Vitamins, iron, and protein.

As assortment of vegetable extracts, which include broccoli, alfalfa, grape seed, acerola, and green tea

No extra flavors or colors
Pros
✅ Great price, which is affordable for many
✅ Suitable for children, as well as vegans and vegetarians
✅ Has a good taste
✅ Easy to mix with smoothies
✅ Well packaged
Cons
They only feature this product officially on their website. Which you can't find it anywhere on Amazon.
---
2- Greens First Nutrient Rich-antioxidant superfood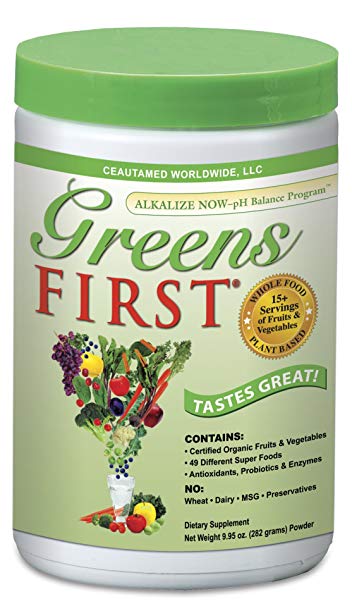 Best for: if you are thinking of detoxing your liver or shed some pounds.
This is among the best supplements in terms of nutritive value and helping your liver regain its health, as it does contain ingredients that you would struggle to find anywhere else.
For instance, the extract of milk thistle is great for your liver and detoxing it. Your body performance is boosted from the extracts of beetroot, and inflammation also reduces significantly, thanks to the turmeric.
If you struggle with a lot of buildup of toxins in your body or want to find something that helps in your weight loss journey, then the combination of ingredients in this products will go a long way in helping you achieve your goals. You do not need to worry about its taste either – it is sweet, due to stevia being part of the ingredients.
Contains:
Veggies, fiber, greens, probiotic blends, enzyme, and OxiSure

Over 45 ingredients in total

15 servings of veggies and fruits, 30 servings total

4g for each scoop

Available in 5 flavors
Pros
✅ It has a good taste
✅ Available in many flavors
✅ Helps you on your weight loss and detox journey
✅ Has a high dose of vegetables and fruits
Cons
The sprouted barley contains traces of gluten

Proprietary blend
---
3- Vibrant health plant-based superfood powder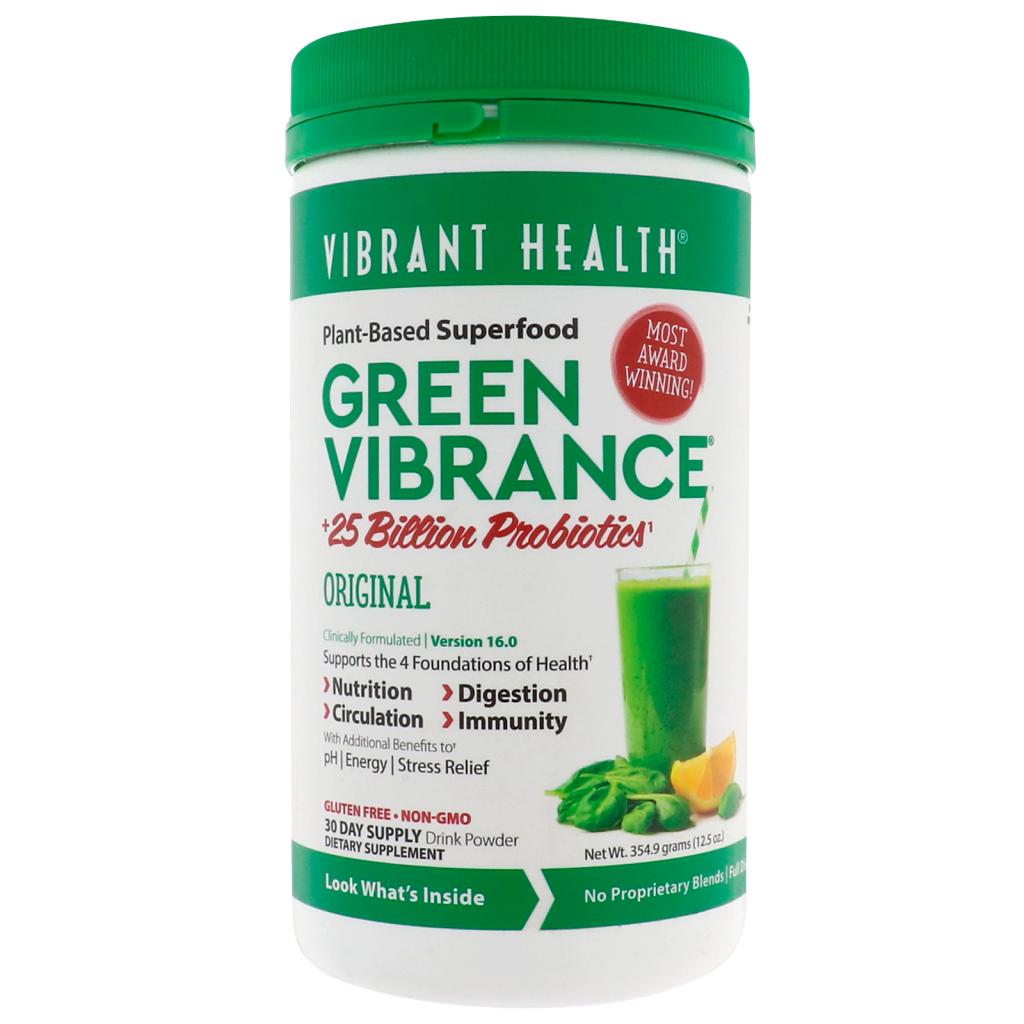 Best for: those days you just want to feel amazing.
This is a drink that does not have proprietary blends, so that is good news for you if you want to take a supplement whose ingredients you know and understand what they do. When you read through the label and the ingredient list, you will quickly understand why that is the case. All its ingredients support digestion, mental clarity, immunity, nutrition needs, bone support, and energy requirements.
In particular, the powder contains an adaptogen blend, which the body needs to combat the negative effects of stress and cortisol.
The only drawbacks are the unpleasant taste (not surprising for a quality greens supplement like this), as well as the cost. However, you will get what you pay for, so it is a worthy choice.
Contains:
25 million probiotics, 1000mg of chlorella, 2880mg of cereal greens

83 g for each scoop

30 servings

Liver tonics, greens, antioxidants, adaptogens, skeleton and immune support
Pros
✅ The nutrition information is complete
✅ High-quality ingredients
✅ Very high doses
Cons
---
4- Macro Greens raw green superfood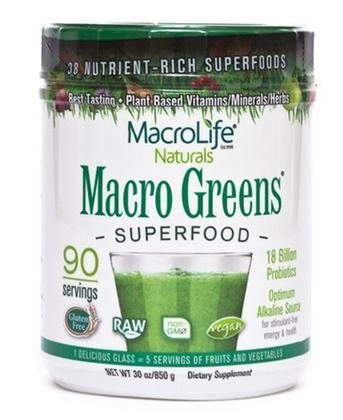 Best for: if you happen to struggle with digestion problems
There is a certain advantage that makes this supplement powder stick out from all the others in this list – the makers ensured that there is no trace of common allergens present in the formulation of the product.
That means that it is very safe for use with multiple age groups, and will help you if you are struggling with an allergy to certain foods, and the ingredients will boost your digestive system.
These ingredients include probiotics, licorice, and ginger.
The only instances you should take this supplement with caution is if you have SIBO (Small Intestinal Bacterial Overgrowth) or IBS (Irritable Bowel Syndrome) unless your doctor advises you to do so. This is due to the probiotic and fiber content in the supplement (and green drinks in general), which can irritate the intestinal bacteria and lead to bloating.
Contains:
38 ingredients

4g for each serving

18 million probiotics

Baby barley grass base

Enzyme blends, probiotics, greens, adaptogen, antioxidants, fiber

More than 5 servings of veggies and fruits
Pros
✅ Gives plenty of digestive support
✅ Gluten-free and vegan-friendly
✅ Affordable
✅ Does not contain allergens
Cons
Does not have as much greens 

Has a strong stevia aftertaste
---
5- Athletic Greens premium superfood cocktail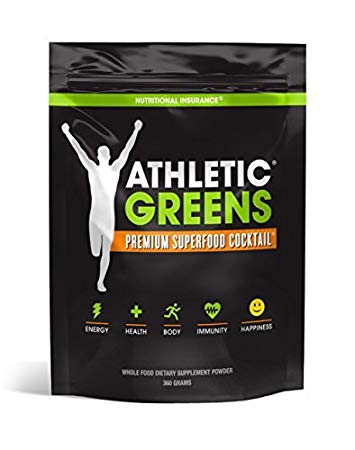 Best for: if you live a very active lifestyle daily and could use some extra nutrition or energy requirements, or if you are an athlete.
This is easily considered among the best greens powders, thanks to the high quality of nutrient support, balanced blends, and very good ingredients.
In fact, there are not many things to complain about here, except for one thing: the price.
However, if you can afford it, it becomes one of the best health investments to make.
Many reviewers state that they actually felt a significant difference in their energy and health levels after they consumed the product.
The best news is there is no need to consume a multivitamin as long as you have this product, which means you also get to save money.
Contains:
30 servings, 12g for each serving

2 billion probiotics

Minerals, vitamins and protein

8453mg of alkaline blend

233mg of mushroom complex and digestive enzyme

3569mg of antioxidant, herbal and nutrient blends
Pros
✅ Has a large serving size
✅ Gives you natural energy quickly
✅ Tastes much better than many green superfood supplements
✅ Will give you most of your daily nutrient requirements
✅ The blend of ingredients is high
Cons
---
6- Naturo Sciences Natural Greens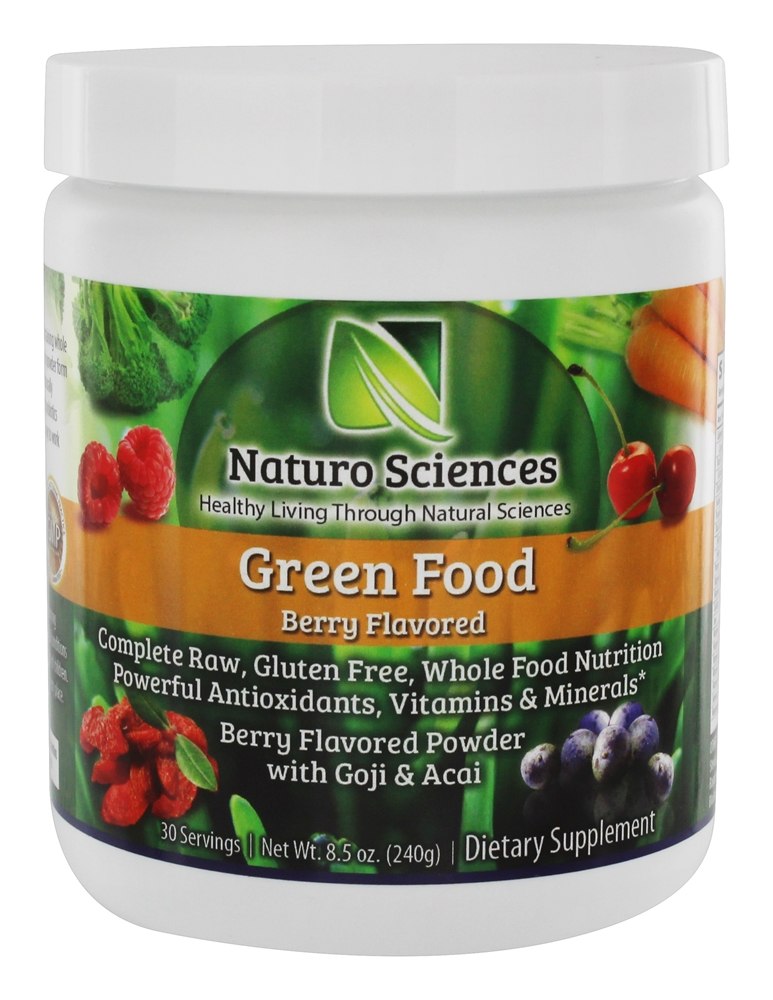 Best for: if you want to get more iron in your diet, but do not like eating veggies
This is among the most popular and affordable green drinks on the market, even though it will have fewer ingredients than the premium supplements on this list.
Even though it is not the most premium ingredient list you will ever see, it does stick to a good blend of nutrients that are highly beneficial for your health. In particular, it does have high iron content, which gives you 10% of your RDA (Recommended Daily Intake). 
If you are not getting enough levels of iron from your diet, such as if you are a vegetarian that does not eat whole grains and greens frequently, then this is a good choice for you.
However, you must remember that excessive levels of iron will likely lead to digestive problems – such as constipation and black stool. The fiber blend in the supplement helps to counteract these effects, but it is best to maintain a half dose until your body adjusts to the drink.
Contains:
5722mg of green superfood

30 servings, 8g for each scoop

Antioxidants, iron, digestive enzymes, vitamins and probiotics
Pros
✅ Affordable
✅ Has a high amount of greens in each serving
✅ You can get it in multiple flavors – orange, strawberry and chocolate
✅ It has a good taste
Cons
Proprietary blend

The high iron content can lead to stomach upset

The ingredients are not as high-quality as premium mixes
---
7- Amazing Grass Vegan raw green powder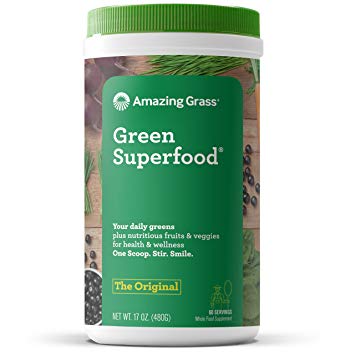 Best for: if you are serious about consuming organic superfood
If you want a company that is 100% committed to producing products that are high quality, organic and raw, then Amazing Grass is among the most well-known for that purpose.
The use of raw supplements means that you get to retain the nutrients present in the food, and the body is better able to absorb them. There are also no chemicals or GMOs in the mix, so you are sure that it is certified and true to being an organic superfood powder.
One thing you must note about this powder is its lack of caffeinated energy booster ingredients, such as green tea extracts.
Therefore, you should not expect it to provide instant energy after consumption. It will also take some time for your body to absorb and use its nutrients on the cell level, so the benefits of taking it should start to show in almost 2 to 4 weeks of regular intake.
It has very good value though, especially keeping in mind that it is among the best organic superfood juices. For a longer life and added benefits, make sure to store it in your freezer or refrigerator to keep it cool and help it to retain the raw nutrients.
Contains:
60 servings, 11g for each scoop

Antioxidants, vitamins, enzymes, minerals, blend of greens and sprout, and raw probiotics
Pros
✅ Comes in multiple flavors 
✅ Gives value for money due to the large size
✅ Very good profile of ingredients
✅ Has organic certification
Cons
Takes quite some time to notice the benefits

It does not mix very well with water
---
8- Garden of Life organic superfood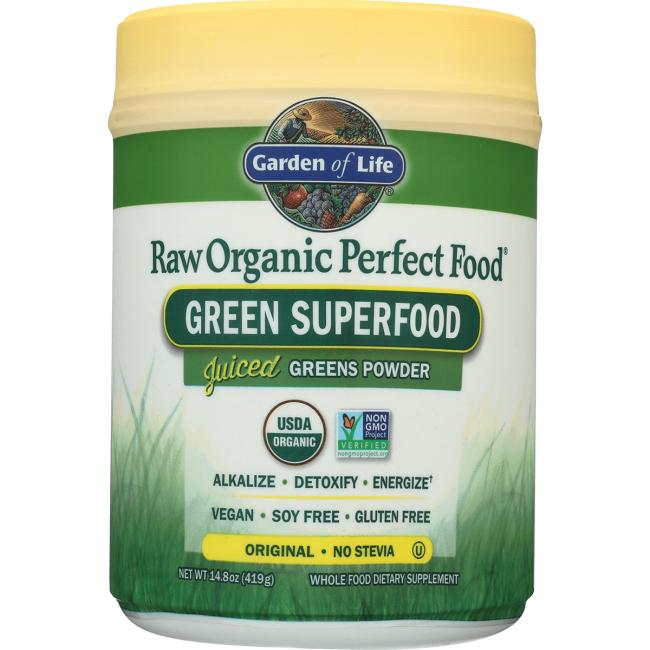 Best for: if you are otherwise healthy, but need some nutritional boost.
The low price of this product might excite you, but you need to note something about the servings: they are only 20 instead of the usual 30, which makes this quite pricey in terms of the price you are paying per serving. It still retains its impressive nutritional value, but it will not be as cheap as what you would expect.
That said, the ingredient list is quite good as it contains organic ingredients, but it will miss the premium quality ingredients – which is the reason it is still affordable. The missing ones include chlorella and spirulina. However, it compensates for the loss by including sprouts and wheatgrass in high quantities.
Even though it looks promising, do not expect miracles. It will be beneficial for you if you want nutritional boosts and you are healthy, and it tastes good – but avoid it if you are struggling with health issues. 
Contains:
20 servings, 14g for each scoop

7g fiber

50 superfood for each scoop

5 billion probiotics
Pros
✅ Good flavor
✅ Good value for money
✅ Contains organic ingredients
Cons
Only 20 servings

There is no information about ingredient quantities

Lacks premium organic ingredients
---
9- Orgain organic green superfood powder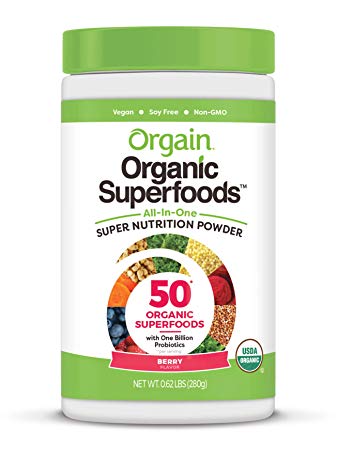 Best for: if you are starting out on taking green superfood supplements.
Getting started in the world of superfood can be quite confusing, and you might not have an idea on where to start – but this is the perfect beginning for you. You can trust it to deliver, as it contains quite the impressive amount of organic greens per serving at 5.7g, and additional ingredients.
However, do not expect too much from it, especially when compared to the premium superfood powders. The list of ingredients is simple, and it comes at a reasonable price that you can work with – but it will always give you good nutrition, especially if you are already healthy.
Contains:
30 servings, 8g per scoop

Three servings of vegetables and fruits

Fiber, antioxidants, PreProbiotic blends, green food, and digestive enzymes

7g of super greens per serving
Pros
✅ Good pricing
✅ Has a variety of flavor
✅ Organic certification
Cons
Lacks adaptogens and other premium ingredients

Low servings of veggies and fruits
---
Who do you need a superfood supplement anyway?
Before starting off this section, there is something to keep in mind: even the best superfood supplements will not save your health if you are not eating a healthy diet. They simply fill in gaps that your diet cannot fulfill.
Even if you are consuming a healthy diet, you might still get nutrient deficiencies – thanks to the nutrient-deficient soils and increase of GMOs. The nutrients we might lack include Vitamins E, D, B12, A and K2, iron, calcium, zinc, iodine, and magnesium.
What are the benefits of these supplements?
The realistic scenario is that you will start to see benefits after some weeks of taking them, rather than instantly. Some of the short-term benefits include:
Detoxification

Increasing energy levels

Improving mental awareness and immunity

Less stress levels

Correcting of nutrient deficiencies

Clear skin
One of the many claims that these supplements will make is alkalizing the body, which changes the acidity levels and reduces the depletion of calcium from the bones. However, there is little research that actually supports this claim, so it is best not to believe it anyway.
---
Criteria to use when selecting a supplement
The ingredient composition
You might not be familiar with superfood anyway, so many of the ingredients will seem strange to you. However, to make it easier, you can break them down into groups:
Green vegetables – include broccoli, spinach, and kale

Grasses – include alfalfa, barley, and wheat grass

Sea vegetables and algae – include spirulina, Dulce and chlorella
Each of these is a superfood, but the best powders will have each category represented in its ingredient list by multiple greens. Other ingredients to look out for are:
Minerals – include magnesium, iron and calcium. However, you need to be careful because excess amounts lead to digestive system issues.

Antioxidants – reduce signs of aging.

Enzymes – improves the absorption efficiency of nutrients

Probiotics – improve digestion, but be careful if you have issues with your digestive system

Adaptogens – they

reduce the effects

of cortisol, making them good for people with stress-related issues or hormone imbalances

Herbal superfood – improves blood circulation and detoxifies the body

Fiber – helps in weight loss
Taste
The taste is not the most important thing, as some of the best super foods have bad ratings due to their unpleasant taste. Here are some tips if you cannot handle the taste:
Mix it with fruits and make it into a smoothie

Select those that contain stevia (although this might make it worse for you)

Change to different superfood drinks

Mix it in smaller amounts of water and chug it down
Value
To help you know the value, it is helpful to answer a few questions:
What is the price per serving? (The price of the product divided by the number of servings). A reasonable one should be $0.70 to $2.00 per serving

How many grams in each serving? – check the gram amounts of ingredients such as chlorella and spirulina

Is it organic?

Does it have a

proprietary blend

? – The ones that have can be risky due to the addition of non-beneficial ingredients

Does it have probiotics and enzymes?

How many servings of veggies and fruits?
Regardless of the specific superfood supplement you choose to work with, always consider the best formula of ingredients in mind, and always stick to eating a healthy diet – after all, these super foods are meant to bridge any gaps you might have from your diet.