Pros
Allergen-free, gluten-free and lactose-free
Eco-friendly packaging
Responsive customer support
Cons
No external clinical trials on the product to prove it works
Issues when ordering and adding items to your cart
Discrepancy in pricing
Overview | What is Bio X4 | Dosage | Ingredients | Mechanism | Side-effects | User Reviews & Complaints |Prices | Verdict
This Bio x4 review features: what Bio x4 is, how to use it, what it contains, its benefits, side effects, what real users say, packages, prices, its pros & cons and where to buy it.
Probiotics – what are they?
Probiotics are beneficial bacteria and yeast that inhabit your body, especially the digestive tract (gut). 
Their role in helping digest food, produce vitamins and destroy disease-causing organisms makes them positively impact weight loss and digestion. In addition, they may also improve heart health, immunity and, anxiety and depression symptoms.
Unfortunately, many processes like antibiotic treatment constantly affect probiotics levels in the body, yet these good bacteria need to be at optimum levels if we want a healthy digestive system.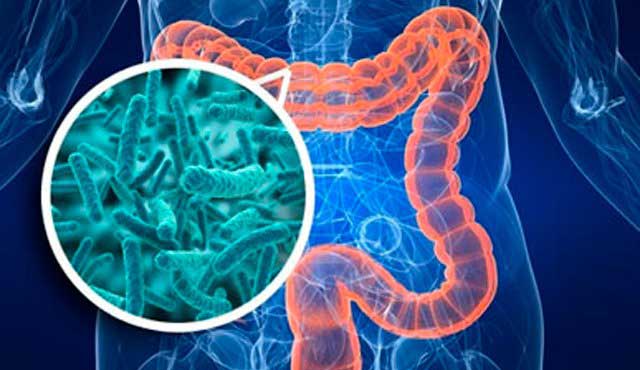 We can achieve their optimal levels by habitually eating foods rich in probiotics. These include yoghurt, pickles, sauerkraut, tempeh, Kamchi, miso, kombucha, traditional buttermilk and some kinds of cheese (cheddar, cottage cheese, Gouda and mozzarella).
I can almost hear you go – 'say what?!' at some of the foods! Relax, most of them are some form of fermented dairy, soy beans or vegetables. Not many people's favorite choices, for sure.
This is the main reason for the very many probiotic supplements around.  Not being a great lover of yoghurt, cheese and pickles, and having no idea about getting a consistent supply of the other 'say-what foods, I decided to find out what probiotic supplements are out there.
So, I bumped into Bio X4, a weight management probiotic  dietary supplement that promises to help one:
Control those cravings that lead to overeating.

Boost metabolism while burning fatter.

Get the energy and nutrients needed from food eaten.

Make you 'bloating and gas free' confident!
The weight management aspect of the Bio x4 caught my interest,  so I decided to investigate the supplement further.
Read my findings in our Bio x4 review below.
---
What Is Nucific Bio x4?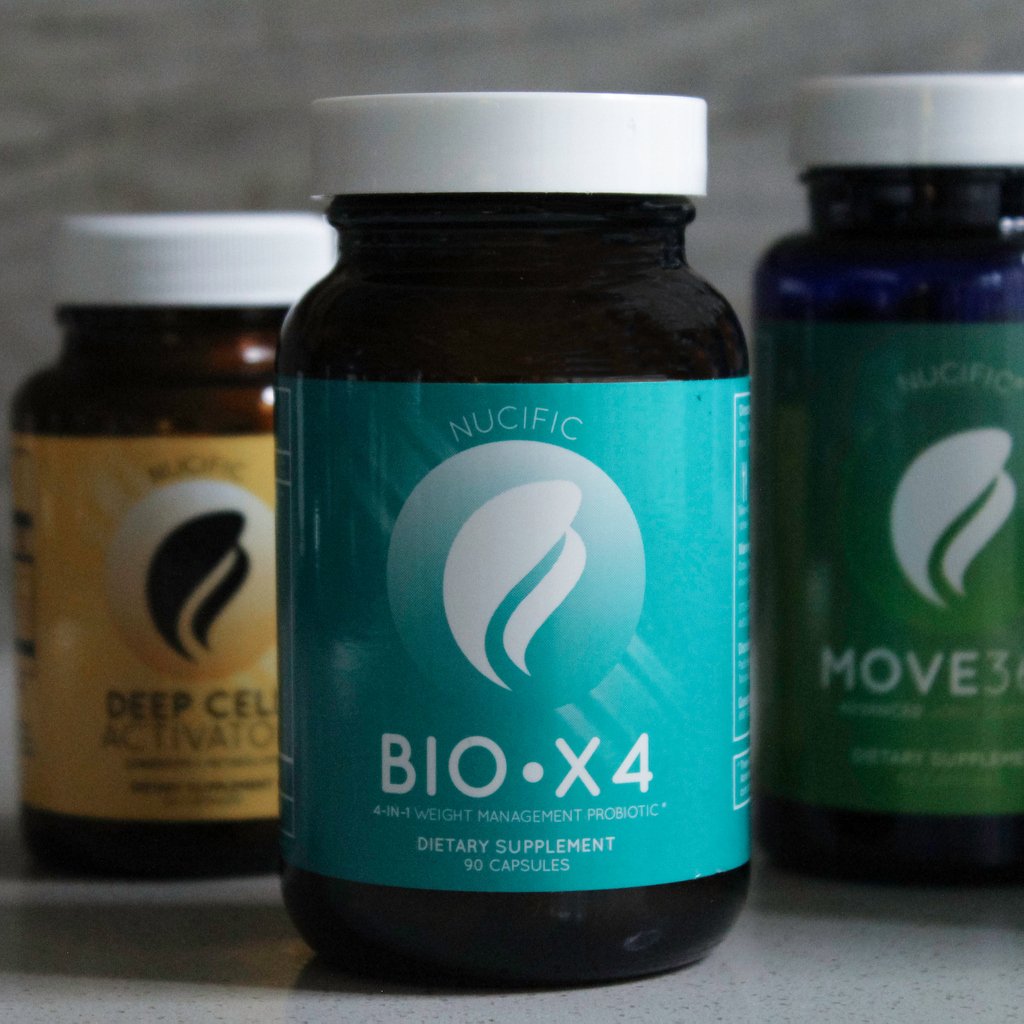 Bio x4 is one of the many supplements by Nucific. It is marketed as a 4-in-1 weight management probiotic dietary supplement – 4 proven nutrients for the ultimate digestive support, revitalizing and energizing the body from inside-out.
Bio x4 is manufactured by Nucific, a company registered with Better Business Bureau. Its aim is to offer scientifically backed cutting-edge products that help the body perform at the prime levels it was designed to.
The choice of company director seems to affirm this, as Dr Amy Lee, a bariatric physician who holds certifications in Obesity medicine, Internal Medicine and Clinical Nutrition.
To cap it, the company uses eco friendly packaging and donates part of the proceeds from the sale of its products to Action Against Hunger.
Other Products that Nucific Offers
Apart from Bio X4, the company also offers a range of other nutritional supplements including:
Nucific Slimming Chocolates

Probiotic Complex

Dr Amy's Bone Broth

Deep Cell Activator

Antartic Crill Oil
---
Bio x4 Dosage
Bio X4 comes in bottles containing 90 capsules. For optimal results, 1 capsule should be taken 3 times a day with each meal – breakfast, lunch and supper. This supplementing of each meal with digestion help that assists in processing food and extracting maximum nutrients gives the body tools required for peak level performance.
---
Bio x4 Ingredients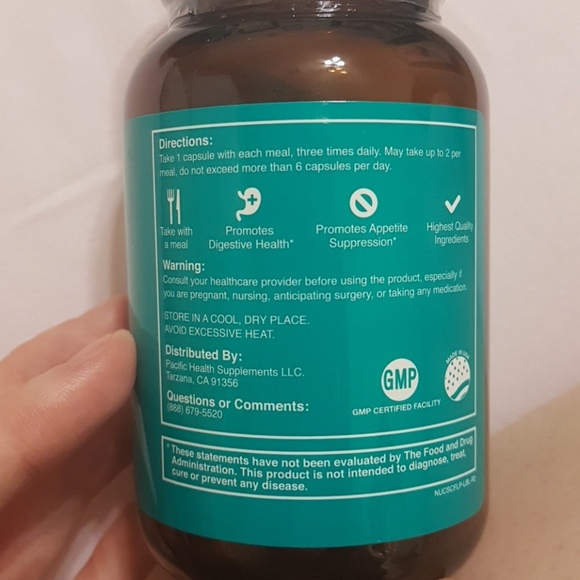 Each capsule comes packed with the following 4 fortified action points:
A probiotic blend  – Amount per serving: 4 Billion CFU/Capsule, consisting of:
Lactobacillus Blend
L. Acidophilus

L. Plantarum

L. Rhamnosus
Bifidobacterium Blend:
A Digestive Enzyme Blend – Amount per serving 43mg, made up of:
Amylase ( origin: Aspergilus Oryzae)

Bromelain

Lipase (origin: Rhizopus Oryzae)
A Weight Management Blend – Amount per serving 100mg which has:
Green tea Extract (EGCG 50%)
A Craving Control Blend – Amount per serving 166mg having:
Caralluma Fimbriata Extract
---
So what does each of the blends do?
The Probiotic Blend is exactly what it says it is – a blend of good bacteria, beneficial to the body. 
For a long time, probiotics have been used to treat bowel problems such as irritable bowel syndrome, diarrhea, eczema, lactose intolerance. It is also important in the treatment of vaginal yeast infections, and urinary tract infections.
The Digestive Enzyme Blend comes bearing the following gifts:
Amylase – key to digestion of carbohydrates (1).
Bromelain – This enzyme is found in pineapples, and helps reduce inflammation and ease digestion. It is often used as a supplement for sore muscles, osteoarthritis, and cancer (2).
Lipase – very important in the digestion of fats (3)
The Green Tea Extract in the Weight Management Blend has many health benefits, including helping with weight loss. It contains catechins and caffeine which aid weight loss by regulating hormones that enhance thermogenesis – a process by which the body burns calories in order to digest food and produce heat (4).
The Craving Control Blend is made up of Caralluma Fimbriata – an edible cactus. This was widely used by tribal Indians to enhance endurance and suppress appetite. There is however insufficient evidence to conclusively link Caralluma Fimbriata with weight loss (5).
Although Nucific  uses external labs to test the purity of its products, there is no evidence supporting  how the Bio x4 blend works.  
---
So, Does Bio x4 Work?
This so far is the big question!
Granted, the probiotics help restore "good" bacteria in the body and balance bacteria levels.
It's actually a fact that probiotics are used to treat allergic reactions and irritable bowel. They may also help boost the immune system.
It's highly probable too, that Green tea may increase metabolism and energy, and thus help in weight loss. 
And chances are appetite could be suppressed by caralluma fimbriata .
But, does combining these ingredients into nucific's  "unique blend" make it work?
The bottom line is, there is no scientific evidence to prove or disapprove the assertion that it does. This is one of the reasons why Bio X4 was not listed on our top 5 evidence-based weight loss pills list.
---
What are Bio x4 Side Effects?
Although the company states that Bio x4 has no known side effects, it is always wise to consult your doctor before taking any supplement, especially when you have any prevailing medical conditions.
Nucific goes on to further explain  that Bio x4 is made up of pure ingredients that only help your system. Since the ingredients are gluten-free and allergen-free, they can be taken by anyone, irrespective of his/her dietary restrictions.
That notwithstanding, a few people have reported experiencing the following symptoms after taking Bio x4:
Bloating

Headache

Stomach pain

Increased gas
What's more, there is always someone sensitive to an ingredient or two. Put another way, any ingredient has some harmful effect when used excessively. 
How about we look at the side effects of some of Bio x4 main ingredients?
Probiotics are well tolerated and generally safe for most people. In the first few days of use however, some people may experience digestion-related disturbances like abdominal discomfort or too much gas. 
People with compromised immunity e.g. those with HIVAIDs may however, develop dangerous infections if they took the supplement.
Green tea has little to no known side effects. All the same, there are a few risks that can be associated with it. These include:
People with severe caffeine sensitivity may experience anxiety, insomnia, nausea, irritability or upset stomach.

Due to it's vitamin K, those taking blood thinners need to take green tea with caution. It should also not be taken with aspirin, since they both reduce clotting.

When taken with other stimulant drugs, it may increase the blood pressure and heart rate. 

Generally,

Pregnant or breastfeeding women, those with high blood pressure or heart problems, anxiety disorders, kidney or liver problems, stomach ulcers, should not take green tea supplements or extracts.
Caralluma Fimbriata may cause mild side effects like intestinal gas, constipation, stomach upset and stomach pain, symptoms that usually disappear after about a week of using it. Though not much is known about caralluma's effect on pregnancy and breast-feeding, it is better to avoid using, to be on the safe side.
---
Bio x4 User Reviews & Complaints
This product has attracted many customer reviews majority of which are positive, especially on digestion related issues. 
They rightly say that one man's meat is another man's poison. As with almost everything, what seems to work for one person does not work for another, at all! 
Let's sample some of the reviews:
Stacey R Kentner describes Bio x4 as a "great health and fitness booster" and writes:
I really like this product. I bought this as a health and wellness and nutritional booster and have been very happy with the results. Though I am not very regular, I have much reduced bloating  and gas, even during PMS! And I feel better over all – just healthier and more energy. Also, I think it has helped me lose weight.
And here is a change of mind from Walbutt , 3 months into using Bio x4:
Rated lower earlier. Took me 3 months or more to see results. Will use it to achieve my objective. Definitely does what it claims!! Love losing this weight. To lose cravings for junk and sugar is very freeing!!!
Ok, so how about some negatives now? Some people have commented that they felt no difference at all using this product, some even reported that they gained weight instead! Let's here this directly from  Rina:
This is TOTAL BS! I've used this product faithfully with every meal, did not change my eating habits or regular exercise – but after a month my weight is UP 1.5 lb. I am not saying the product caused the weight gain, but at best it did nothing. $50 down the drain. Save your money, don't be a sucker.
A number of people also reported having suffered various digestive issues diarrhea, including bloating, and constipation.
We will now change gears and focus a little on the reviews concerning the ordering process on the web site. Apparently in trying to place an order other products from Nucific that you can add to your order keep popping up. This can get you in a fix if in trying to quickly conclude your order, you inadvertently end up ordering extra products that they did not want to.
Many of the complaints logged on the Better Business Bureau seem to revolve around this issue, and the subsequent refund from the company. Some clients actually wind up with bills amounting to even $800 from these additional offers.
Brian M is one such customer. His credit card company even picked up the issue as possible fraud. He writes:
I was interested in the bio4 product and tried to order one bottle to try. However the pop ups were annoying and found that even when I tried to say no to the other offers they appeared on my credit card as if I had ordered them. My card company alerted me of possible fraud alert and is checking into it plus had to cancel my old card and issued a new one, I hope this can be asap resolved. I don't wish to work with this company anytime soon.
In addition to an apology, the company had this to say in response:
We love to offer special offers to our customers, so after placing an order, we can unlock more discounts for other products. Of course, we know sometimes it's not the best time to buy more, and we give the option to decline the offer or exit the page.
The good thing is, the company seems very responsive to negative comments on review sites, and has no problem refunding dissatisfied customers. From its comment though, the company is not planning on changing the ordering process.
The prudent thing appears to be that, you take utmost care on what you are clicking on after placing your order.
---
Bio x4 – Packages, Prices & Where To Buy
Bio x4 is a whole new confusing concept. Dependant on your internet search and the link used to open the website; there are two different sets of prices.
Selecting the product from a drop down on the Nucific site provides prices that appear to be the Recommended Retail Price. This is double the prices shown when you enter the Bio X4 page direct from a search engine. 
Pricelist on a Bio x4 site:
1 bottle (30-Day Supply): $49.00 

3 bottles (90-Day Supply): $129.00

6 bottles (180-Day Supply): $240.00 
Pricelist on the Nucific site:
1 bottle (30-Day Supply): $99.00

3 bottles (90-Day Supply): $261.30 

6 bottles (180-Day Supply): $487.08 
Price on Amazon
1 bottle (30-Day Supply): $49.99
The good news is, the company has a 90 day money back guarantee, which offers to give you back your money if you are not 100% satisfied with their product, without asking any questions. The company seems committed to honoring this guarantee. 
What is not clear however is whether the money back guarantees from sites like Amazon is also valid.
Bio x4 is available in countries like USA, UK and Canada.
Unfortunately, Bio X4 didn't make it to our top 5 effective weight loss pills list
---
Bio x4 – What are its Pros & Cons
Pros
Pure ingredients that have been tested by 3rd party labs

Allergen-free, gluten-free and lactose-free

90-day money back guarantee.

Eco-friendly packaging.

Responsive customer support.
Cons
No external clinical trials on the product to prove it works

Issues when ordering and adding items to your cart

Discrepancy in pricing

Relatively expensive

Must be taken 3 times a day with meals. Many people, looking to lose weight, have just 2 meals. 
---
Bio x4 Review:  Our Final Take
Bio x4 contains a wide range of natural ingredients that are linked to improved health benefits.

In comparison to other products that are out there, the price seems to be on the higher side. 

Many people with IBS attest to benefiting from the product.

If your main aim is to lose some weight, then this may not be the miracle product you seek.

You may be better off exercising and including more fruit and berries in your healthy diet.
We have laid out the facts, in this Bio x4 review– the decision to give Bio x4 a try lies solely in your hands now! Mind sharing it with us at our instagram.